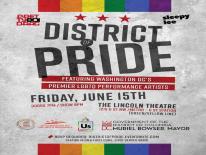 Join us for an exciting lineup of events to recognize LGBTQ Pride Month.
Happy LGBTQ Pride Month!
To celebrate June as LGBTQ Pride Month, we have a number of events happening around the District:
March with Mayor Muriel Bowser: Please join us with Mayor Bowser's contingent for the Capital Pride Parade on Saturday June 9 at 3:30 pm. You can RSVP here.
District of Pride: Come join us the Friday after Pride on June 15 at 7 pm for our first ever LGBTQ Performance Arts Event. A fabulous evening of LGBTQ performance artists to celebrate Pride at the Lincoln Theatre. You can RSVP here.
LGBTQ Senior Splash: Come on OUT and join LGBTQ seniors in the District for an afternoon of poolside fun and healthy exercise. Join us poolside at the Turkey Thicket Aquatic Center, 1100 Michigan Avenue, NE on Saturday June 23 from 2 to 5 pm. You can RSVP here.
For more information, contact the Mayor's Office of LGBTQ Affairs by phone at (202) 727-9493 or by e-mail at [email protected].